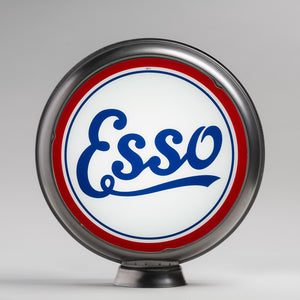 Esso Script 15" Gas Pump Globe
Perfect your gas pump restoration with our individually handmade 15" Esso Script reproduction glass lenses, screen printed right in our shop just like the originals. You can choose from a single, pair, or whole assembly with a steel body.
Please note that our steel bodies are bare steel and might arrive with light surface rust, which can be removed with sanding.
Get a globe mounting ring for $24 when purchasing a full globe set up! Discount applies automatically in cart when both items are added.
Check out all of our Esso / Enco / Standard Oil of New Jersey products and complete your restoration!
Total height is 19.25" with a standard bottom opening 6" in diameter. Globes are shipped unassembled.